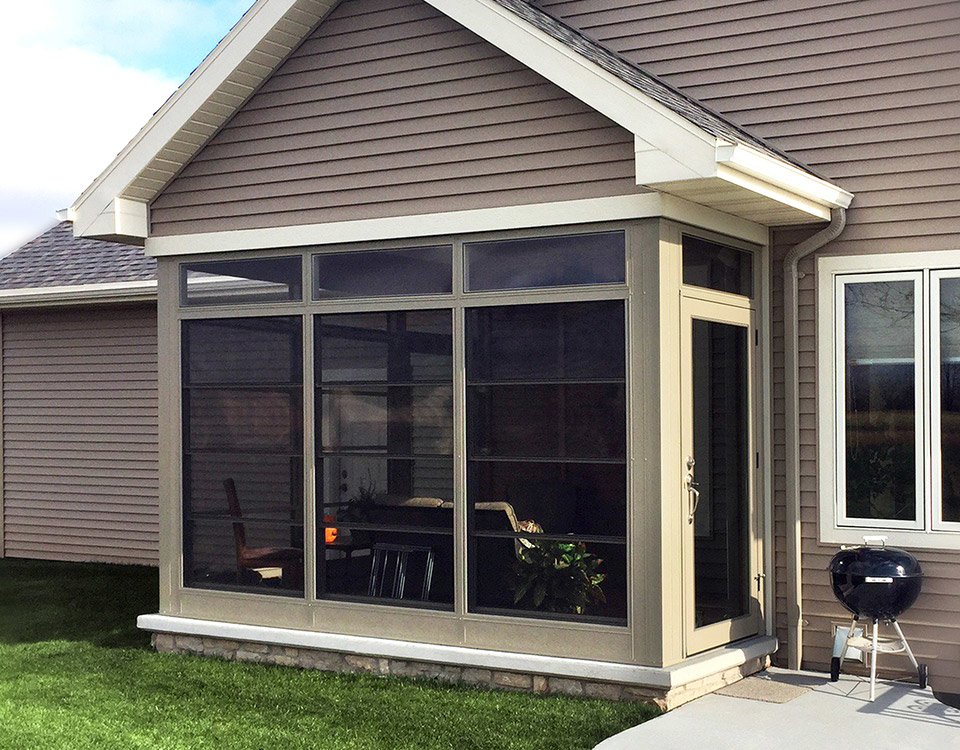 Our permanent Ultimate Screen Room features high-quality vinyl sashes that protect against the elements like wind and rain and block up to 99 percent of all harmful UV rays. Protection from the sun doesn't stop there – our screen rooms all have solid thermal roofs that deflect the sun's heat, providing an unmatched level of protection and comfort.  We use an interlocking roof panel connection system that offers you structural integrity, longevity and leak resistance.  You have the option to later upgrade your screen windows to single pane glass windows.
Rained out BBQs, bothersome mosquitos, and other weather-related issues are inconveniences of the past. We'll help you design the ideal screened enclosure that complements your home's exterior design.
No matter what style you're trying to achieve, you can depend on our experts to design a solution that fits your needs and budget.
This Screen Room allows protection from weather elements and has an insulated roof to keep the room cool. Created with heavy-gauge aluminum extrusion, which is 50% thicker than standard screen framing. This structure is virtually maintenance-free and includes (1) screen door and a gutter system.
This option is available for those individuals that already have the roof structure.  We would add screen walls (the chair rail is optional).  Colors of the aluminum wall are white or bronze.
LARGE OPENINGS (MOTORIZED OR MANUAL)
This is the perfect option for patios that have large openings – up to 22′ wide!  You have the option of a motorized screen or a manual pull down screen.  We offer multiple mesh colors, privacy black-out or insect control!
An innovative design that allows for easy opening of the screen door with an effortless twist.  Also comes with a speed reducer to prevent accidental slams.
Imagine you're reading on your porch and enjoying the summer sun, but as a rainstorm rolls in, you happily realize that there's no need to take shelter inside. Enjoy the sound and sight of the rain without letting it dampen your plans with a screened-in porch from CMR. 
If you're looking for a cost-effective way to add usable living space to your home, an enclosed screened porch may just be the solution.  You can be sure that when you work with our outdoor living specialists, you'll receive a usable space made of the strongest materials to fit your budget!  We offer fully customizable designs and layouts.